This year is off to an amazing start.  We're less than two weeks in and I've had the honor, pleasure, and priviledge of cowriting with Ms. Thea Ennen and Mr. Tim Lyles.
Both Tim and Thea have been extremely influential on my musical style, writing, all around approach to guitar playing, and life.  I feel blessed–to say the least.
The songs are different from what I'd normally write, which is such a gift.  And the point. Collaboration is truly an amazing process.  I like it a lot.  I feel like I'm stretching and reaching new places on guitar, vocals, and with song structures/formulas.
With Thea I'm learning to intentionally harmonize (some of you will know what I mean by this.  Sometimes harmonies come naturally and give you shivers, other times, they are work and take concentration and intension).  I'm accompanying Thea's piano playing and alluring vocal melodies with a little bit of lead guitar and tenor.  Sprinkles of flavor – here and there.
With Tim, we take song structures and chordal movements to a whole new level.  In fact, my fingers and hands ache after sessions with him.  I can't tell you how wonderful this is to feel.  Aches and all.  Tim's got that back on the beat g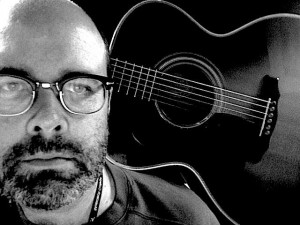 uitar playing style that I absolutely cherish.  And, how wonderful is it that Tim is the one musician who I've played with the longest in my life?  I remember making a decision to buy a really nice acoustic over a decade ago and asking Tim to play it for me so I could hear it from the front and then decide.  He made it sing and I still have it.  And, he still makes it sing.
My goal over the next few months is to record demos of the songs Tim and I create and make them available on SoundCloud.  Thea and Lisa songs will hopefully be compositions you can hear us play live at a venue near you.  We just need to land a few gigs.  Anyone have any recommendation of places we should/can play?  Microbreweries and happy hours are hands down my first choice for venues right now.
As always, thanks for the amazing support you give.  I'm in love with music and so grateful to have the chance to share my passion with y'all.
Blessing and best, Lisa
(photo credits can be found on Thea and Tim's Facebook pages.)