My breech baby.  A compilation of songs I refer to as the verse/chorus compilation or prose put to sound.
I don't really know what prevented, or still prevents, me from releasing this disc.  The pieces are all there – even the artwork.  Dawn Yemma had once again volunteered her amazing talent and design – which I absolutely LOVE.  Thanks again Dawn.  YOU are an amazing friend and extremely talented person.  You see light in the darkest places.
The cover comes from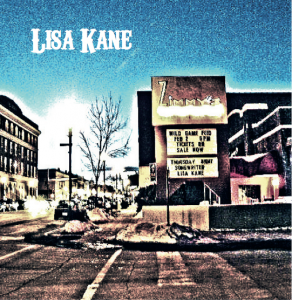 a photo of a Zimmy's marquee promoting a solo gig I had.  Zimmy's was always a lot of fun.  Linda and Bob were very good to me. I came in as a top three finalist at Zimmy's, two different times, in their Dylan Days Songwriting Competition.
The first time I competed, I qualified with a song called Northland Girl.  It came to me on the Superior Hiking Trail.  It's my take on who Dylan's Northland Girl was and where she might be today.  I took second place with this song.  Then it turned out the first place winner couldn't accept the prize; an opening slot for Maria Muldaur at the Hibbing High School.  So, I was given the opportunity and I performed on the same stage Dylan was booed off of as a kid.  I'll attach a pic.  Thankfully, I was warmly welcomed by the audience.  I think I felt a touch of Dylan's residual energy floating around as well.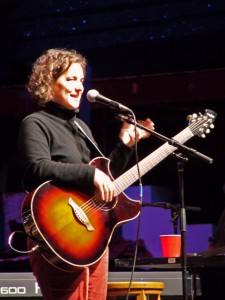 I qualified in the top three at Dylan Day's a second time.  The song I performed was called Old Man Raven.  I wrote this song during a late spring (aka Duluth's mud season) cold snap.  I went out early to check on the tender little starts in our greenhouse,  bringing my backpacker along with the idea of singing the little sweeties a song  (I was desperate for them to survive) and the melody for Old Man Raven appeared.  I must have gone out right after our neighbor dumped some kind of kitchen-scrap concoction in her open air compost bin, because while I wrote my song a handsome flock (Murder of Crows?) swooped and cawed out in gratitude.  I was equally grateful.  I have always loved singing and playing Old Man Raven.
The engineering of this project did not come as easy as the songs. When I first moved to Duluth, I kept a couple dozen guitar students in St. Paul and commuted.  Wonderfully generous folks like Gabriela Sweet, Mike Bruns, Barbara Spenader and Tom Roark let me crash on their couches.  And, seeing how I was already in town, I decided to record this project at a studio in Minneapolis.  I had a really nice Yari that the engineer was willing to trade for studio time.  The tracks from the sessions were amazing.  I flaked out a bit on the producer though and completely dropped off when I ran out of funds and guitars I could afford to offer.  I'd also started grad school by then and was EXHAUSTED.  Still, something kept gnawing at me, so between classes and a new part-time job in Duluth,  I recorded several more songs in my basement using a Roland VS880.  These recordings sounded almost as good as the studio sessions.  The combined result was a compilation of songs I believed to be strong enough for print.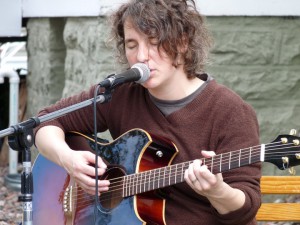 Plus, the vocals turned out the way I'd hoped they would.  I performed solo almost the whole time I lived in Duluth and had started putting more emphasis on melodies. Here's a pic a solo gig in Two Harbors at an annual art fair.
I still can't tell you why I didn't release the album.  It had artwork I loved, vocal tracks I liked, and two songs good enough to win songwriting competitions.  And, I had contributions from local artist who added a lot seasoning.  Pat Eliason, whom I'd met at Zimmy's, played an amazing harmonica track on Margo's Song.  He was in the competition too and we become fast friends.  Still are.  Then there was Waabi Furo.  I sold him a tenor guitar (Sadly, I sold all but two instruments from my collection to pay for grad school).  While Waabi was testing out my tenor, I grabbed a guitar and offered up a jam that we later recorded and called Esther.  Waabi, I still owe you a nice dinner.  I haven't forgotten.  Last but not least, was Rachel Nelson.  We were special guests at an Echos of Peace concert when we met.  I'd already booked Homegrown and asked her to join me.  It went so well that I asked her to sit in on a recording session.  She said yes and brought a prose/ramble of mine to an incredibly new place.  Rachel always does an amazing job.
So, even though I can't get past my hesitation to release the latest album, it has been very nice to have this opportunity to explain to you the decade of dead Lisa Kane air.  Well, not dead air, more like radio silence.  There were quite a few noteworthy gigs with Thea Ennen that I'll write about at a future time.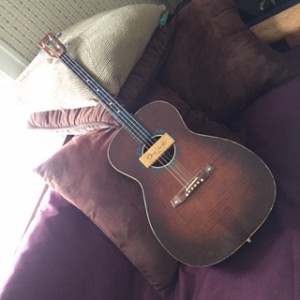 Okay, I'll head over to SoundCloud now and load the songs that Rachel, Pat and Waabi contributed to.  And, just for the heck of it, I'll add one of me accompanying myself on tenor. Here's my SoundCloud link: https://soundcloud.com/lisa-kane-344185105.  I hope you will like what you hear.
All photo credits belong to Carrie Chomicz (except the tenor pic).